Sustainable.  Human.  Engaged.
Bokhari is a social enterprise that contributes to secure decent employment opportunities to hundreds of artisans in Pakistan, mostly women, through the production and sale of handmade textile and interior products. Our staff's children also benefit from free, quality education at the LAMS school adjacent to the weavery.
Sustainable: At Bokhari, sustainability means that we care about both the planet and people. We only use sustainable materials in the production of all our products, and where possible, we use recycled or upcycled materials. We also have numerous certifications confirming our commitment to a greener future.
Human: We do not emply people to make our products – we develop and make products to employ people. With that vision as a driving force in everything we do, we take conscious choices to ensure that we are able to employ more women and men, providing them with safe and decent employment opportunities.
Engaged: We wish to contribute to the well-being of our staff, their families and the local community. Today and in the future. That is why we dedicate resources to ensure that all children, regardless of social or fianancial background – or gender – have access to free quality education in the absence of public schools. Quality education not only is every child's right, it is also the prerequisite for a brighter future. Many of the girls who are enrolled at the LAMS school are pioneers, often the first in their families who can read and write. In addition, we contribute to a number of other initiatives benefiting the local community in Sultan Town.
We do not emply people to make our products - we develop and make products to employ people.
Who are we?
The Bokhari team in Norway consists of creative director Runa Klock and CEO Amar Bokhari. Our common vision is to contribute to a more sustainabe present and future for both people and the planet. Together with experienced and knowledgable artisans in Pakistan, we have developed a portfolio of exclusive interior products made from sustainable materials. Through this, we ensure decent work to more than 350 women and men at our weavery in Pakistan, and schooling to more than 700 children.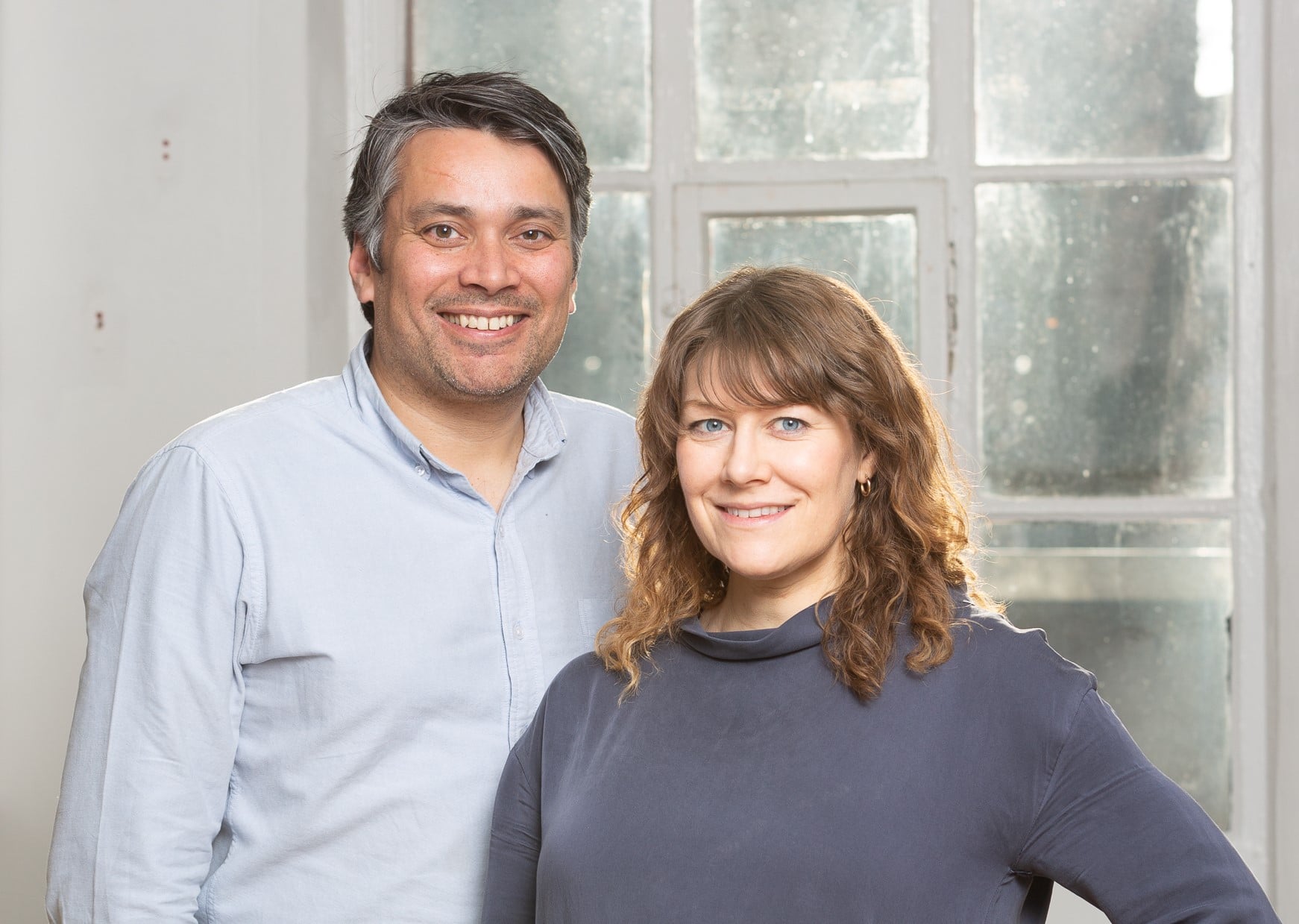 Amar Bokhari
CEO
Amar is a passionate social entrepreneur with decades of experience in the field of humanitarian and development work. He is a tireless defender of human rights, with a particular focus on children and women's rights. This focus is reflected in his vision that Bokhari should be a contributing force towards more sustainable solutions, putting peope and the planet first. As CEO at Bokhari, Amar is responsible for the day-today operations of the company, as well as strategic development. Amar lives in Islamabad, Pakistan, with his three daughters and wife, Noor.
Tel: +47 948 48 093
E-mail: amar@bokhari.no
Runa Klock
Creative Director
Runa is a forward-looking Norwegian designer who places sustainability at the forefront of everything she does. She has broad experience in design ranging from quality interior products and exhibitions for leading brands and museums, to urban planning and the production of apple juice as a part of a social entrepreneur. As the Creative Director at Bokhari, she takes a lead in developing Bokhari's portfolio of unique products from sustainable materials. Runa lives in Sjøholt, Ålesund on the West Coast of Norway, with her daughter.
Tel: +47 958 87 414
E-mail: runa@bokhari.no
Parents at work. Children at school. This is how we build a brighter future for all.
Our story
An informal lunch in 2014 with designer Runa Klock and social entrepreneur Amar Bokhari in 2014 laid the foundation for the re-establishment and continuation of the vision to create decent employment opportunities to women and men in Pakistan, and education to their children – work that had begun 30 years earlier.
The story of Bokhari dates back to 1989 when the Pakistani-born Yawar Bokhari, who was settled in Lillehammer, Norway, with his wife Brit, discovered and was inspired by the ultra-Norwegian rag rug while visiting the historical museum Maihaugen. The rag rug, fillerye, is a traditional rug made from rags and waste material, and woven into practical and cosy rugs. Upon discovering the rag rug, Bokhari decided to bring a sample to Pakistan where he eventually established a weavery in Sultan Town, a quiet suburb of the textile metropole Faisalabad in Pakistan.
The following years, the business grew and Bokhari expanded the weavery into slowly becoming the main place of employment in the village. Materials were sourced from nearby textile mills, where rags were considered waste material. At the same time, this was an opportunity to help people out of the poverty trap. Particularly women had few chances of progressing, with no education and few jobs available to them. The decision to build a school for the children of the staff was a direct response to this, and in 1996 the foundation stone to the LAMS school was laid, adjecent to the weavery.
Following Yawar Bokhari's unexpected demise in 2012, all activity at the weavery ceased. Only two years later, in 2014, Bokhari's son Amar along with Runa decided to step in and develop a new, forward-looking business model based on the principles of sustainability.
Along with the leading Norwegian retailer, Kid Interiør, a new and exciting portfolio of handmade product was developed. The principle of sustainability in all its dimentions (social, economic and environment) remains central to the business model and all decisions made and new products developed are inspired by this.
Today, the weavery employs 350 women and men in a variety of roles. The LAMS school, which is still run largely with donations from Bokhari, annually enrolls 700 students, mostly girls, and continues to provide quality education to children who otherwise would not have gone to school.
All our products are made from upcycled, recycled and natural materials.
Sustainable materials
From the making of the very first rag rug in 1989 until today, all our products have been made from sustainable materials. Our focus on upcycling, recycling and use of natural materials guides our product development and design, and inspires to innovate. Rugs, bed throws, table mats and pot holders are made from upcycled cotton – left overs from the local textile mills. Our tote bags are made from recycled cotton, and our baskets are made from water hyacint, a natural seagrass found in nearby rivers.
Artisanship
Artisans have a long and proud history in Pakistan and the Sub-Continent. From traditional handknotted carpets and rugs to carvings and pottery, Pakistani artisanship deserves to be rediscoverd. Through our handmade interior products, we want to celebrate artisanship. Our staff bring their experience, often carried through generations, into the making of every product. With their attention for detail and dedication and love for their work, they see to that the products are made to perfection. And perfection takes time; this is what makes our products unique. As we invite you to browse our range of products, we hope you will join us in appreciating the dedication and hard work put into every single product.
Decent work
Access to decent work is one of the keys to ensuring women and men a sustainable future. Despite this, too many people work in unsafe and unacceptable conditions, including in Pakistan. Therefore, we pay particular attention to ensure that all our staff are provided safe and secure working condition, and decent employment benefits. With its plants and trees, the weavery is already a green oasis in the otherwise impoverished Sultan Town, but it's also an oasis of workers rights where female and male staff are provided equal opportunities to engage and take on responsibilities. All our staff are provided with written contracts, social insurance, access to parental leave and pension benefits, to name a few. We work tirelessly to further improve working conditions, including health, safety and environmental issues. Our Sedex SMETA and ISO certifications are confirmations of these efforts.
Decent employment to 350 women and men.
Certifications
Certifications contribute to ensuring that all activities at our weavery are in accordance with international standards. At Bokhari, however, we want to go beyond the minimum standards required by these certifictions, and we continuously strive to exceed expectations related to environmental standards as well as working conditions and engagement and involvement of staff in all ativities.
Our current certifications include:
GRS – Global Recycled Standard
ISO 14001:2015
ISO 9001:2015
Sedex SMETA
Current certificates are available upon request.
«Education is the foundation upon which we build our future»
The LAMS School
At Bokhari, we strongly believe that all children, regardless of social or economic background, or gender, are entitled to free quality education. In lieu of the government providing this service to all its citizens, we built the LAMS school in 1996, providing the children of our staff free, quality schooling from ages 4 to 18. Thousands of children have since been enrolled at the school . And with the support from Bokhari, graduating students who wish to continue their studies at university-level are offerd scholarships. LAMS enrolls today about 700 students, mostly girls. By offering quality education, we are contributing to building a brighter future. Read more about LAMS at www.lams.no/english
How does Bokhari work on the Sustainable Development Goals?
The UN Sustainable Development Goals (SDGs) are the world's joint work plan for eradicating poverty, end inequality and stop climate change by 2030.
At Bokhari, we are inspired and guided by the SDGs and contribute directly to the achievement of several of them.
The 17 SDGs are all interconnected, and our ultimate goal is to contribute to the fulfilment of all, but our direct impact is as follows:
SDG 4: Quality education
SDG 5: Gender equality
SDG 8: Decent work and economic growth
SDG 12: Responsible consumption ad production

In addition, through our work and local engagement and projects,we contribute to the following:
SDG 1: No poverty
SDG 2: Zero hunger
SDG 3: Good health and well-being
SDG 6: Clean water and sanitation
SDG 7: Affordable and clean energy
SDG 9: Industry, innovation and infrastructure
SDG 10: Reduced inequalities
SDG 11: Sustainable cities and communities
SDG 13: Climate action

Whereas our work may not directly impact the following SDGs, through our network and engagement, we hope to contribute to the following:
SDG 14: Life below water
SDG 15: Life on land
SDG 16: Peace, justice and strong institutions
SDG 17: Partnerships for the goals